Tank Adapter YDTA-04
The NMEA 2000 Tank Adapter YDTA-04 allows you to connect up to four existing resistive or voltage type fluid level sensors installed on tanks and display the fluid level on NMEA 2000 devices, including chart plotters.
The Adapter can be configured to report one of the seven fluid types defined in the NMEA 2000 standard: Diesel Fuel, Gasoline Fuel, Oil, Fresh Water, Waste Water, Black Water (Sewage), or Live Well. The tank number can be configured up to 16 tanks of one type are allowed in an NMEA 2000.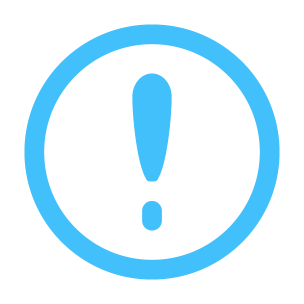 If you only have one tank, look at the YDTA-01. It can be configured from MicroSD card and log fuel usage. It is also available with NMEA 2000 or SeaTalk NG connector.
The Device can be used with European (10 to 180 Ohm range), American (240 to 33 Ohm range), or Japanese (0 to 310 Ohm range) standard fluid level sensors as well as with any nonstandard sensors with maximum resistance less than 400 Ohm. The Device can also be used with fluid level sensors, which output an analog voltage signal in the range of 0 to 16 Volts.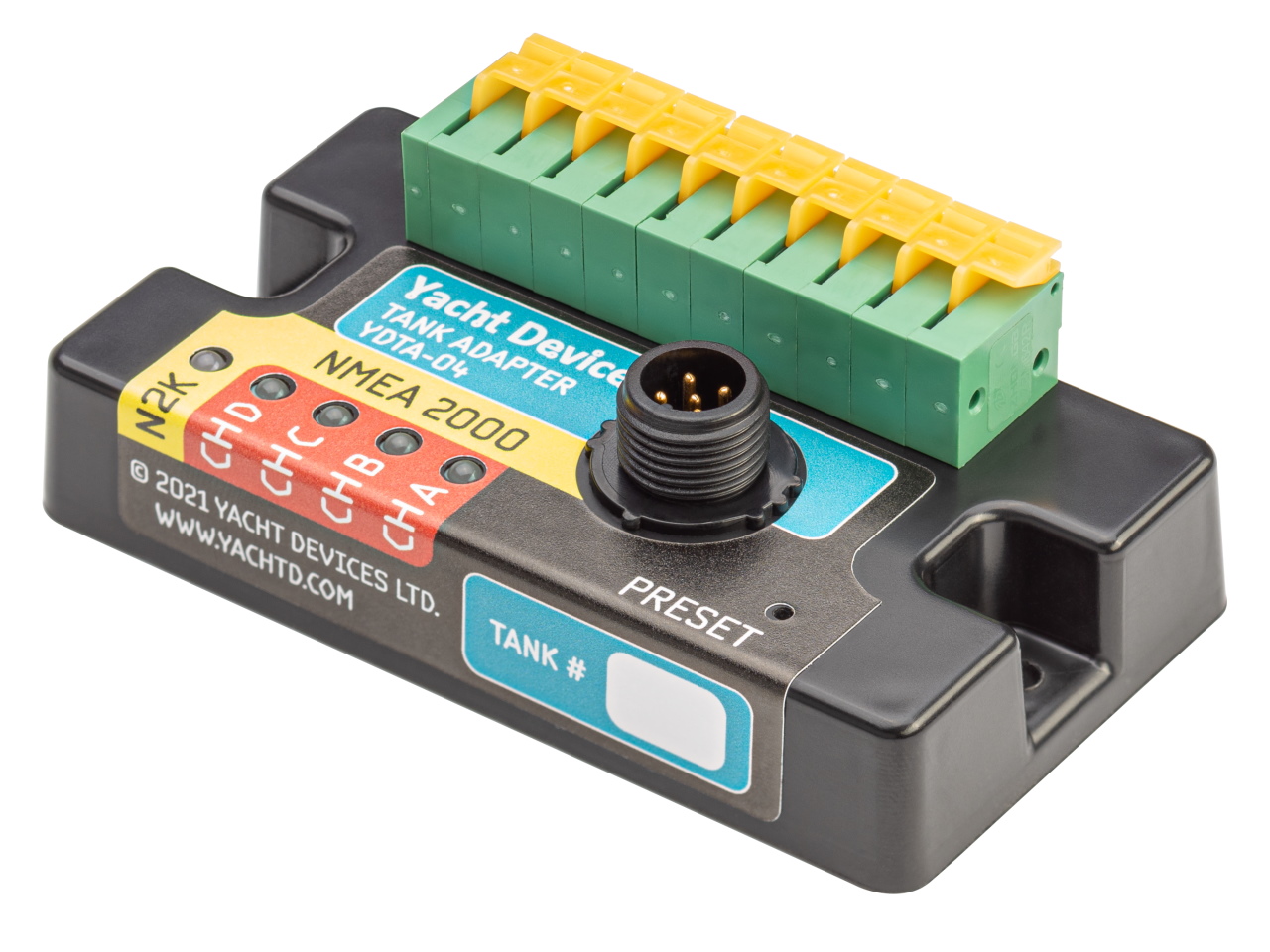 Picture 1. Tank Adapter YDTA-04
The Adapter can be installed as a standalone measuring device, in parallel with an existing analog gauge (2-coils and 1-coils gauges are supported see Picture 2), or in parallel with a Volvo Penta engine's MDI (Mechanical Diesel Interface) box. If you have a combined gauge where you choose the value to display with a button, the Adapter will smoothly work with it, too. The four measuring channels of the Device may have individual settings. Fluid tank level sensor readings can be calibrated with 12 calibration points to get accurate readings on tanks of any shape.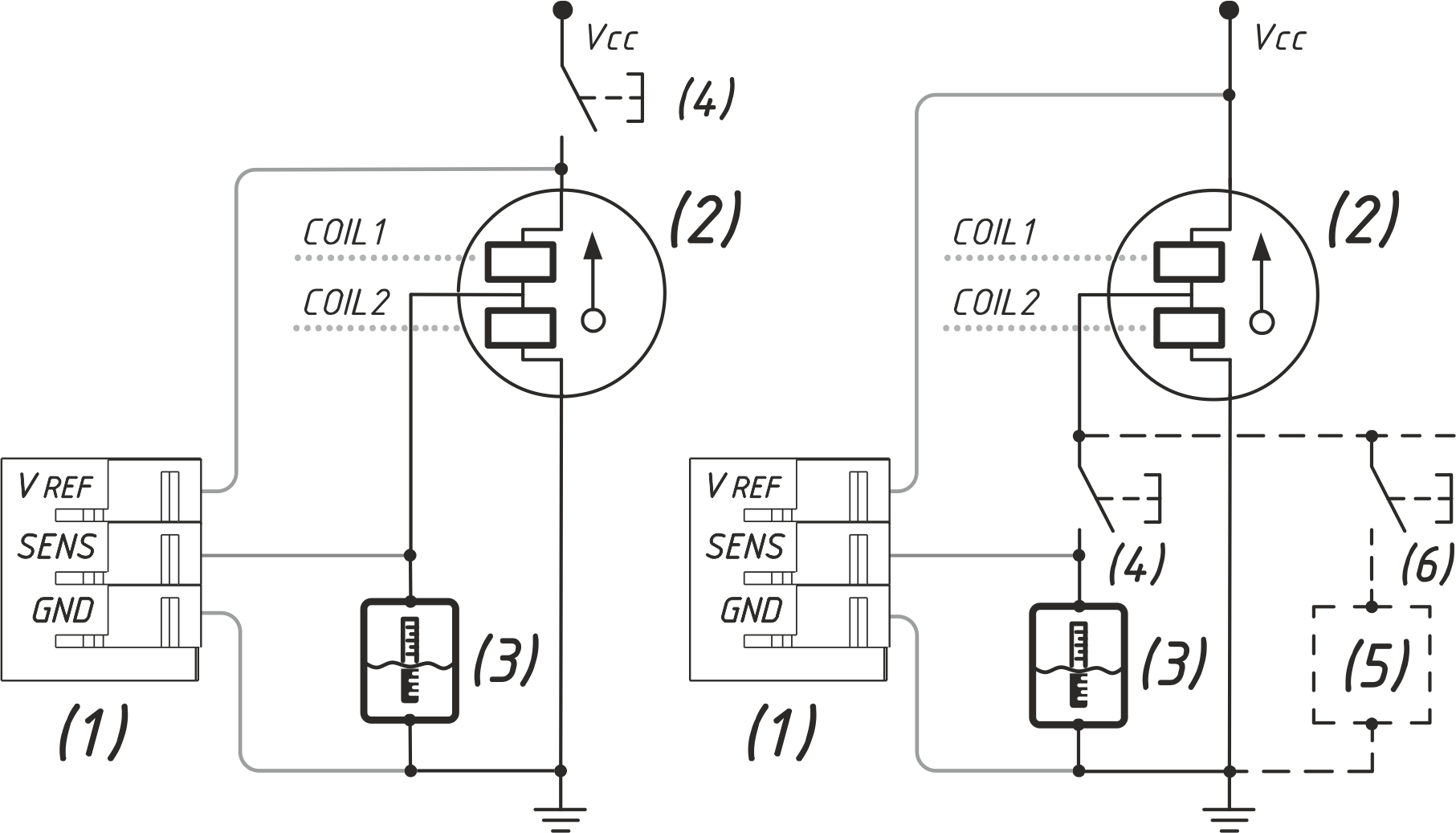 Picture 2. Connection in parallel with an existing analog 2-coil gauge: (1) - YDTA, (2) - Gauge, (3) - Fluid sensor, (4) - Optional button, (5) and (6) - Other sensors (optional)
The Device is equipped with a hidden button that allows switching among 15 configuration presets (see Section V of the Manual). However, for advanced configuration (calibration curves, digital switching functions, connected in parallel with analog gauges, using voltage sensors) the NMEA 2000 PC gateway (from any manufacturer) or MFD which allows editing of installation description strings is required. Firmware updates are available only with Yacht Devices gateways (Wi-Fi, USB, or Ethernet).
In the settings, you can join several tanks for correct calculation of "Estimated Fuel Remaining" data for PGN 127496 "Trip Fuel Consumption, Vessel" which displays the sum of the fuel volume in selected tanks.
The Adaptor can switch the load channels of NMEA 2000 digital switching equipment on or off. Up to eight different conditions for each measuring channel can be used. For example, the Adapter can turn on and off digital switching equipment (the same as the YDTA-01 model), e.g. alarm you with the Alarm-Button or turn on a pump with the Circuit Control.
The device is powered by the NMEA 2000 network and provides high voltage galvanic isolation between NMEA 2000 and sensor inputs.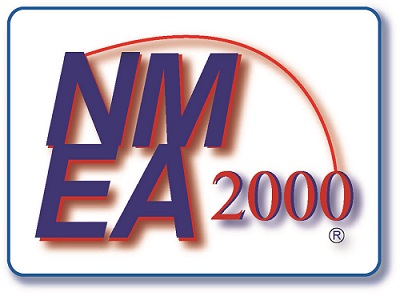 The Adapter is compatible with virtually all equipment supporting NMEA 2000 and is certified by National Marine Electronics Association. Raymarine SeaTalk NG, Simrad SimNet, and Furuno CAN networks are branded versions of NMEA 2000 and differ only by connector type. Garmin uses the NMEA 2000 Micro connector in its devices, which is compatible with the DeviceNet Micro connector.
The Adapter is supplied with NMEA 2000 Micro Male connector (see the picture below). For proprietary networks, an adaptor cable may be required.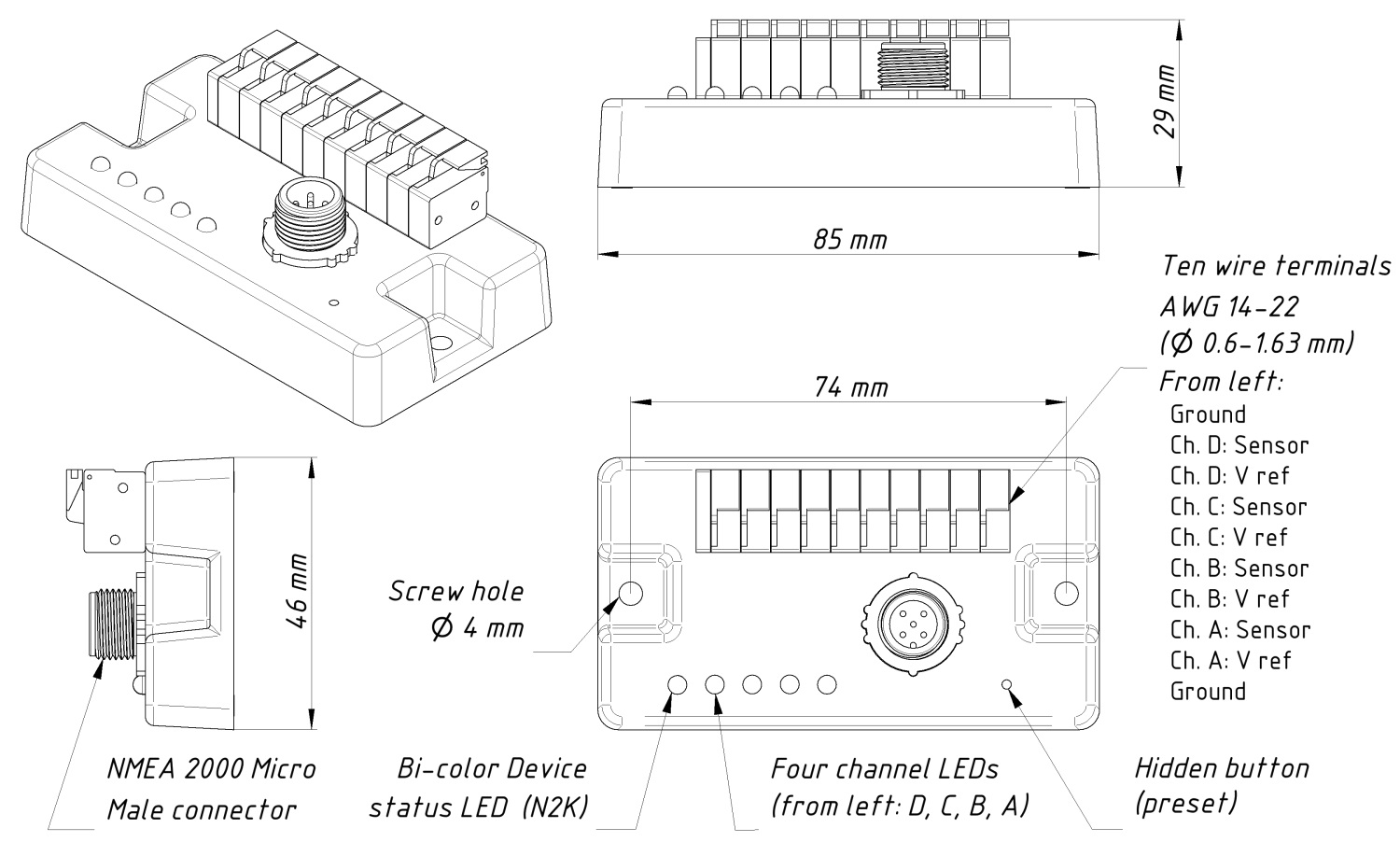 Picture 3. Drawing of Tank Adapter